Metrogon....spare no expense!!
The cost to the US Navy was listed as 2,000+ in 1951
Metrogon information needed
If you have any lens information or images of metrogon lenses, please send them to me at the email below and I'll do my best to get them on this page.


ansco8x10@yahoo.com
Cameras that used this famous lens.
Fairchild K17C, KA3, K-22, T-11, KC-1, KC-1B, and KC-9A. aerial cameras.

The K-22 Aerial mapping Camera
In the 1960's U.S. Air Force U-2 reconnaissance planes with Metrogon equiped Fairchild T-11 mapping cameras, exposed negatives measuring 9" x 9". These negatives have ground coverage of 19 x 19 miles at 65,000 feet. They used film rolls of 9.5" x 390'. Even larger reconnaissance cameras made stunning 9" x 18" negatives.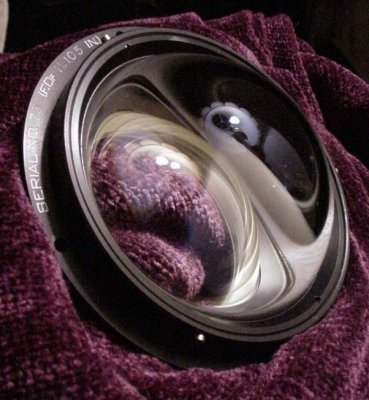 Rear element of 12in Metrogon Lens
Although not visualized well in the above image, this lens is fully coated.